It has been almost a week since The Parents came home. Wow. Time goes by fast!
Last Wednesday (The day after they got home) my dad drove up to the city near here where our Provincial adoption office is. He needed to drop some paperwork off so that they could get going on the next few papers we needed. We were more than a little nervous as we had heard that the 'boss' was on vacation for 6 weeks. The thought of having to wait 6 weeks to get some very basic paperwork signed was..bad. I'm sure all you fellow adoptive people can understand that. Just the thought of maybe having to wait an extra 6 weeks for no reason!!! Oie! But of course, God had everything worked out and when my dad arrived they had all the paperwork not only signed, but packaged and ready for the mail!! Woohoo!! I think they were just happy to get rid of us!! Haha. The last of our paperwork is now making it's rounds at the capital and our adoption agency and than it is off to EE! We are so close. Once these papers are in EE we have a 'worst case' timeline from our facilitators and that puts us at the beginning of September to go back and pick up G!
Oh, and speaking of G, here she is! Imagine that. Take a moment to gaze at her cuteness.
thankyouverymuch
The other day my mom decided to go through the clothes we have been collecting for G over the last few months. Interestingly enough, only 3 of the shirts look like they will fit her. And none of the pants or sweaters. She is just THAT tiny. So, it is back to the drawing board for us. At least we have a few months now to get some more things for her!!
On another note, I think I have summer plans almost in place. Phew. Took me long enough but I really could not make plans until we knew for sure when visits were taking place! Hopefully they will be for sure, for sure soon and than I will share here.
On another, another note...
Please keep these two boys in your prayers,
Edit: both boys now have a family!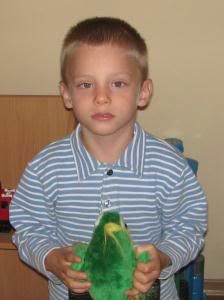 That is all.