I don't buy a lot of things. Not at all. I could count on my fingers the number of items of clothing I have actually bought new. We grew up on second hand clothing. And we (as a family) have perfected the art of thrift store shopping. Why? Well partly because I grew up in a tiny town 2 hours away from civilization. Partly because we are not the richest family out there. But mostly because, why not? You can find great deals with out spending a ton of money at thrift stores. If something is in good condition and you like it, where does it matter where you got it from? And honestly, I would much rather pass my money on to someone who really needs it more than buy new clothes. That's a fact.
However, sometimes I do want something. It's not like I need it. I just want it And I have come to learn that that is okay. It's ok to want things sometimes.
For several months I have wanted a pair of yellow pants. Random, I know. But the color yellow makes me happy. I have been looking and looking for the perfect pair. No luck at our thrift stores. Or our usual shopping places. So I moved on to looking at the mall. Nothing was the right color. Nothing fit me correctly. Finally, we found a pair down in the States. It was a tad too bright, but they fit perfectly. The problem? The price tag was more than I was willing to spend. Yes it was a normal price for [new] pants. But no way was I going to spend that much, not on something as trivial as yellow pants.
As silly as it was, I was feeling a tad desperate. I know I didn't need the pants. But it was something I had wanted for months. However yellow pants just were not as easy to find as I had first thought.
This Saturday we went shopping again. Our mission was to find the allusive yellow pants. I knew by now that the only way we were going to find that perfect pair of pants was if God showed them to us. As silly as it was, I told Him to provide exactly what I needed, taking my wants and needs into consideration. He knows what I need far better then I do. He knew my desire for those pants. The ones I didn't need but wanted. So this Saturday we searched. I tried on many different pairs of pants. Nothing worked.
And then my mom saw something. Tucked into the sales rack, was the very.last.pair of yellow pants in the store. They looked to be the wrong size. We didn't have much hope, but it doesn't hurt to try them. And surprise, they fit. Perfectly. And they were on sale. On sale! Cheap!
Hello.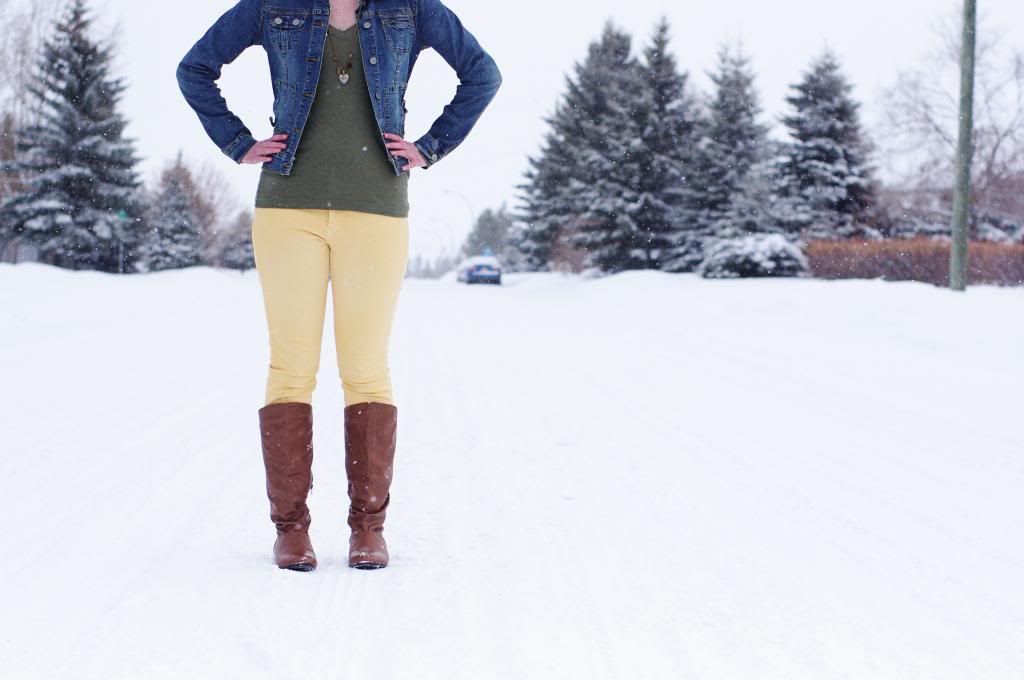 It always surprises me how God cares about the little things. Like yellow pants. I didn't need them. I only wanted them. And he chose to honor that and bless me with the pants.
Always thankful. Always blessed.